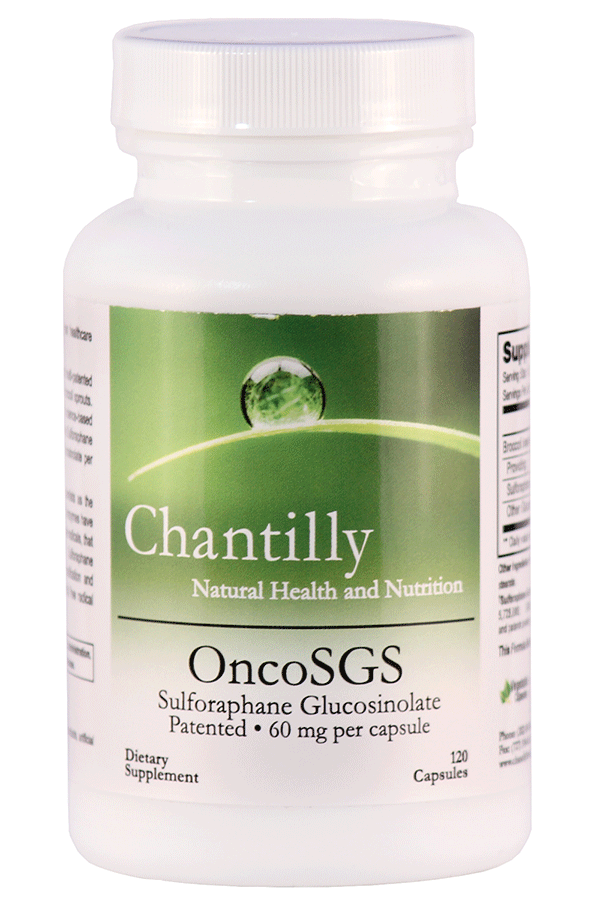 OncoSGS
OncoSGS contains high amounts of the heavily studied and multi-patented ingredient Sulforaphane Glucosinolate, found in broccoli and broccoli sprouts. For the first time in the industry, we are bringing you this science-based ingredient in the highest potency available. OncoSGS contains Sulforaphane Glucosinolate 10% which yields 60 mg of Sulforaphane Glucosinolate per capsule – double the potency of other available formulas.
Sulforaphane Glucosinolate has been identified by many scientists as the strongest known inducer of Phase II enzymes. These Phase II enzymes have the ability to neutralize the chemical toxins, electrophiles and free radicals, that are responsible for the initiation of carcinogenesis. Sulforaphane Glucosinolate activates the body's natural enzymes for detoxification and those with antioxidant proprties, protecting cells from harmful free radical damage*.
Ingredients:
Broccoli seed extract 600mg providing sulforaphane glucosinolate 60 mg and other glucosinolates 6 mg
OncoSGS* vcaps contains a specially cultivated form of broccoli seed known as BroccoRaphanin. This proprietary and patented variety of broccoli, Brassica Oleracea italica, is particularly rich in glucoraphanin (better known as sulforaphane glucosinolate or SGS). SGS is the direct precursor to sulforaphane. Sulforaphane is part of a family of compounds collectively known as isothiocyanates. Sulforaphane was isolated and identified in 1992 by researchers at the Johns Hopkins University School of Medicine. *
Diets rich in broccoli and broccoli sprouts are chemoprotective and may reduce the risk of many forms of cancer. * Scientists also believe that SGS may boost the body's own antioxidant defense system, including the upregulation of phase 2 detoxification enzymes. * SGS is also particularly useful in the fact that it upregulates phase 2 enzymes without upregulating the potentially pro-carcinogen-producing phase 1 enzymes.
*None of the statements above have been evaluated by the FDA. This product is not intended to diagnose, treat, cure or prevent disease.